We live in the century of massive digitization. Every business that was traditionally done in an offline manner is now being moved to the internet and being transformed to a model that caters to the behavior patterns of online users. This is also true when it comes to the healthcare service industry, which in the past decades has been predominantly occupied and safeguarded by qualified medical institutions where patients visit and get treatment from medical professionals in person. Although many people believe that outbreak of COVID-19 might vastly reshape the landscape of healthcare sector, 'going digital' was already happening, and many startups have been trying to find innovative digital solutions that can address information barrier, as well as challenges in efficiency optimization and resource allocation across the healthcare value chain.
COVID-19 certainly accelerated this process. In China, to reduce the risk of cross-infection between COVID-19 patients and others, some hospitals shut down outpatient services, leaving many chronic disease patients to seek help from online healthcare platforms such as AliHealth and Ping An Good Doctor. Since January, total visits on Ping An Good Doctor App reached 1.1 billion, with 10x registered users and 9x new online consultations.
Discussions on future opportunities for digital healthcare have also gained wide attention. Will this headline trend be sustained in the post COVID-19 period? What are some proven business models? Are the market itself and regulators ready to embrace innovations when things go back to normal? Do developing countries with limited medical resources have the potential to leverage digital healthcare and go beyond the traditional models of public and private healthcare? In search for answers to these questions, we would like to share our observations and thoughts on what happened in the healthcare industry in China over the past few years, and hope this could shed some lights on the ways forward for startups and investors in other emerging markets.
This blog is part of the 'Future Insight Series' which features case studies of Internet tech-enabled startups in China to encourage discussions on business models that disrupt traditional economies and enable changes in emerging markets. At Future Hub, we are fully dedicated to innovations across the African continent by leveraging our knowledge and connections in China's tech ecosystem. We partner with, incubate, invest in, and support visionary local entrepreneurs to build a bright future for Africa.
Disclaimer: This author of this blog article makes best effort to provide information and analysis based on publicly available data and information, but not liable for any direct, indirect or consequential losses, loss of profits, damages, costs or expenses arising out of the use of information contained in this blog. This article only reflects the author's observations and opinions, and does not constitute any investment recommendation.
Digital Healthcare Industry in China
Before diving into the drivers and bottlenecks of digital healthcare in China, it is worth pointing out that, healthcare service is to a large extent different from other service industries in general, given the social and political importance of public health and safety. This sector is heavily regulated. It also has some structural characteristics that are not commonly seen in those digital service industries including e-commerce, online travel agencies etc.
A few examples are:
entry barrier for healthcare service providers (medical practitioners) is very high
delivery of healthcare service such as medical treatment and drug prescription is monitored and regulated
demand is not that elastic (usually flat as a percent of GDP) and the pricing is, in most cases, strictly regulated
payment is partially channeled through insurance companies.
However, there are some changing aspects in this industry despite these structural constraints. As SRI International defined in 2010, aside from the traditional, sickness-oriented and passive search for healthcare service, there is a growing desire to proactively seek for wellness management. Such demand is more elastic, and some HealthTech companies are already tapping into this juicier segment with AI-backed and big data solutions for smart health management.
The rise of the 'new' and 'additional'demand for better and innovative healthcare services reflects the fundamental shifts in China's healthcare market. Since 2008, healthcare expenditure per capita has been soaring at 14% to 15% CAGR. This results mainly from the overall economic development, as the share of healthcare expenses as a percent of GDP still remains between 4% and 5% - only that people, especially a rapidly growing middle class have more dispensable income to be allocated to quality healthcare.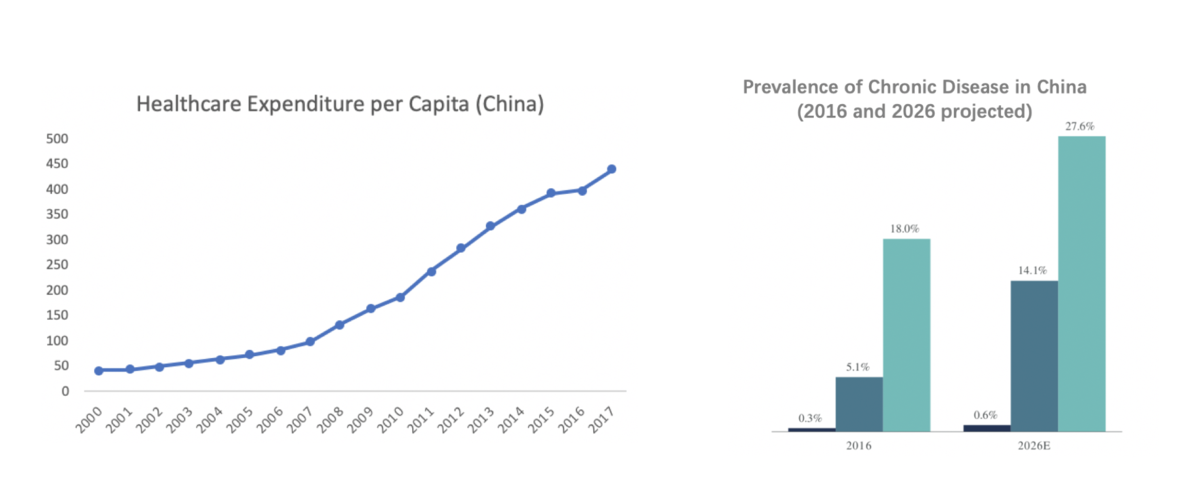 (Data source: World Bank, Frost & Sullivan)
On the other hand, the evolving demographic structure also puts more pressure on the existing healthcare system. With aging population and increase in chronic disease cases, demand for high-frequency interactions with medical professionals is much higher, thus bringing more traffic to offline healthcare services.
Meanwhile, in the same period, mobile internet technologies and innovations have experienced an exponential growth, with almost 95% of the 731 million internet browsers being mobile internet users in China.
A fast-developing and aging economy with a strong mobile internet user base set the stage for a growing digital healthcare service market in China.
Nevertheless, some deep-rooted bottlenecks of traditional healthcare industry continue to prevent itself from responding to these emerging needs swiftly.
Insufficient and over-concentrated medical resources
It is natural for any human being to find the best medical solution whenever he or she can. In China, the 'best' doctors, as perceived by the public, can only be found in Class III hospital. As of 2016, there were only 2,232 Class III hospitals across the country (mostly concentrated in urban areas of mega cities), which take in almost half of annual consultations and diagnosis. Poor resource management when supply is very limited leads to poor user experience: lack of efficiency and transparency in information, hard to make appointment, long-distance travel, long waiting time, short consultation time, etc. On average, patients have to wait for 3 hours only to get to have a consultation with the doctor for eight minutes.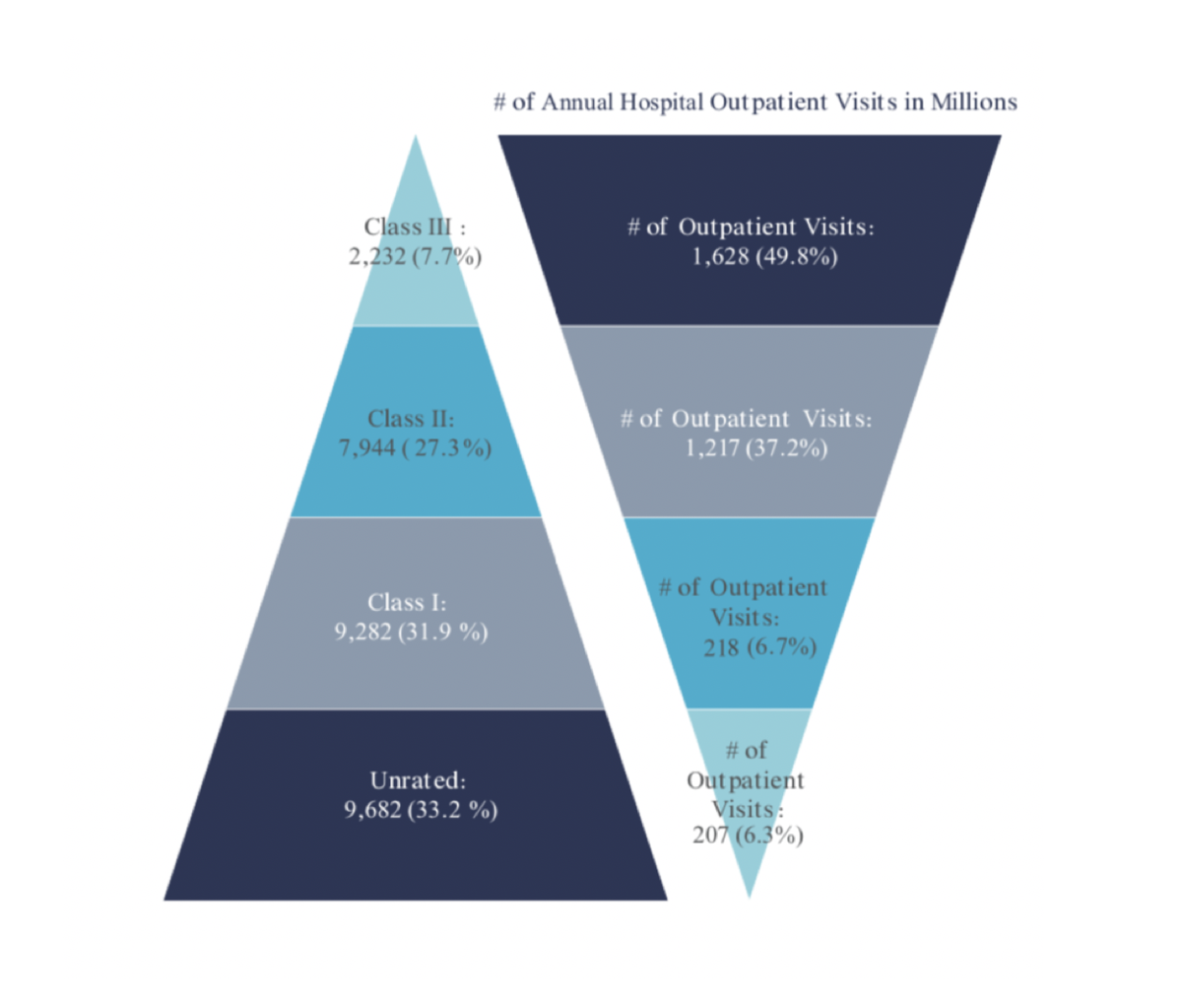 (Data Source: Ping'An Good Doctor IPO Prospectus)
Incompatible payment system with insurance schemes
Moreover, even though some innovators attempted to remove the frictions in the system and better serve the consumers, paying for the services/solutions provided becomes troublesome again. 97% of people in China are covered by three major public health insurance schemes: urban employee basic medical insurance, urban resident basic medical insurance, and new rural cooperative medical scheme. Without getting the approval from authorities or partnership with private insurance companies, non-hospital healthcare service facilitators can only resort to out-of-pocket payment from the patient, which does at all not help them get more advantageous over the traditional offline model.
As mentioned earlier, healthcare service sectors used to be heavily regulated in light of public interests. However, regulators in China are starting to see the benefits of digital solutions and attempted to create favorable policy environments for innovators. In fact, many of the successful digital healthcare startups benefited from it.
Between 2014 and 2015, provinces such as Guizhou launched the piloting phase for 'Internet/Online hospital' and encouraged experimentations of business models that can be complementary to traditional offline medical care model. In spite of tightened regulations in 2016 and 2017, more province-level governments are welcoming the participation of non-hospital service platforms in processes of online consultation, online pharmaceutical stores, online prescription, referrals, etc. Some are even open to partial payment through insurance schemes in wake of such need after COVID-19 hits the society. However, as of now, any entity that is involved in diagnostic and prescriptive services has to be either a licensed hospital itself or to partner with one such offline hospital.
Overview of Existing Digital Solutions
Positive signals from regulatory authorities have incentivized startups to move in this space and build up their unique value propositions (for instance, improved efficiency in communicating information, better mobilize tangible and intangible medical resources etc). Apart from hospital-centric SaaS startups, we find that there are four business models that have gained much traction so far.

(1) Online scheduling platform: making appointments with specialists online: users no longer have to wake up at 3am in the morning to check in at the hospital the first thing in the morning. But to provide such service, the platform has to make sure the online and the real-time offline scheduling systems are synchronized.
(2) Online consultation platform. It allows end users to inquire and seek quick answers from medical professionals online, but prevents diagnosis and prescription. It serves those who experience light symptoms but do not necessarily have to get treated in hospital. Although this model attracts huge flows of user traffic, generating profits would be problematic as the willingness to pay is low, whereas good quality medical professionals are not typically interested in this service. However, it can be a pre-step for directing users to follow-up medical services.
(3) Internet hospital/online hospital: users can get consultation, diagnosis, prescription and pay with one fingerprint. This domain was restricted from first time patients, but in some provinces, opening up to 1st time patients is also being piloted due to the outbreak of COVID-19. Eligible entities should have an offline presence either by building their own facilities or partnering with licensed hospitals. Diagnosis can be supported by chat text, pictures, but not available via video or phone calls yet.
(4) O2O pharmaceutical: e-commerce for OTC pharmaceutical products
Ping'An Good Doctor: Case in Point
What makes Ping'An Good Doctor (1833.HK)an interesting case is that, being the first healthcare startup that launched IPO in Hong Kong with $16 billion market capitalization (as of July 24, 2020), it has become an integrated platform that offers all four services mentioned above. Moreover, originated from one of the leading private healthcare companies in China, it has received tremendous support from Ping An Group to grow the business in various ways. (Fun fact: 'Ping An' means being safe and healthy in Chinese)
Ping'An Good Doctor was awarded the "Listed Enterprise of the Year 2019". According to its annual report, as of December 2019, registered users on Ping'An Good Doctor reached 315 million, granting itself a leading position in the market. Monthly active users (MAU) are 66.9 million, however, and of whom only 3 million are fee-paying users, indicating that conversion rate is still relatively low at 4% - although slightly improved from 3.6% in 2018.
Ping'An Good Doctor has four main lines of businesses:
(1)Online consultation and diagnosis
With three licenses for internet hospitals granted in Qinghai province, Yinchuan and Hefei city, Ping'An Good Doctor has developed an in-house team comprised of 1,409 licensed doctors to provide 24/7 online consultation, referral, appointment-making and prescription services to mobile users. For referrals to physical medical services, Ping An Good Doctor is working together with more than 3,000 hospitals across the country to facilitate offline interactions. It also has partnered with over 5,000 external medical professionals from Class III hospitals who offer consultation services (not on-demand) to users who prefer to consult with specialists. In addition, AI chatbots are deployed to assist user in building up their health profile throughout the conversation. The service is offered free of charge for the first 15 minutes of consultation. To see a designated specialist or follow up the conversation, users have to pay.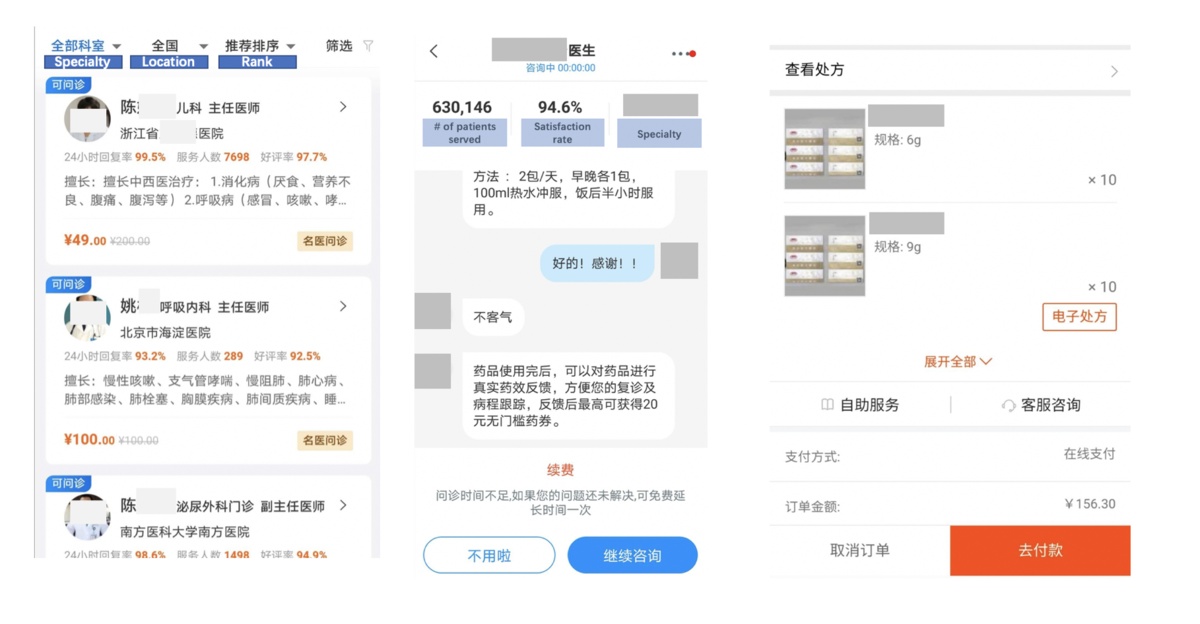 (PingAn App User interface)
Individuals can either 'walk in' to chat with medical professionals, send pictures on physical symptoms, or to choose an annual subscription plan, which is a new feature launched in 2018, Private Doctor, where users get assigned to one dedicated doctor for online consultation and diagnosis throughout the year. From a profitability viewpoint, between 2018 and 2019, the topline has boosted by 109%, which can be attributed to the introduction of subscription model for corporates. As disclosed by Huajin Securities, number of consultations and fee-paying conversion rate of corporate employees are 2.7x higher and 2.3x higher respectively than normal individuals, which indicates the stronger ability and willingness to pay in the corporate consumer segment.
Many other startups such as ChunYu, HaoDaifu, WeDoctor offer similar services in online consultation, diagnosis and prescription, but have not yet to achieve the scale and growth as Ping An Good Doctor. One possible answer is Ping An's strong and stable in-house medical professional team that is available on demand, whereas competitors relying on part-time doctors with day job in hospital and cannot respond on real-time basis, which does not necessarily solve the 'efficiency' problem for end-users.
Health Mall refers to the sales of OTC medical products and wellness products either via direct sales or via the marketplace open to third-party vendors (which Ping An charges a commision on). In July 2018, Ping'An obtained Pharmaceutical Trade License (Wholesale), and it enabled Ping An to further develop its own online-to-offline (O2O) pharmaceutical wholesale network. In addition to expand partnerships with offline pharmacies to deliver to user doors, one of its recent strategies is to convert offline OTC drug buyers to online, by investing in OTC on-the-go kiosks.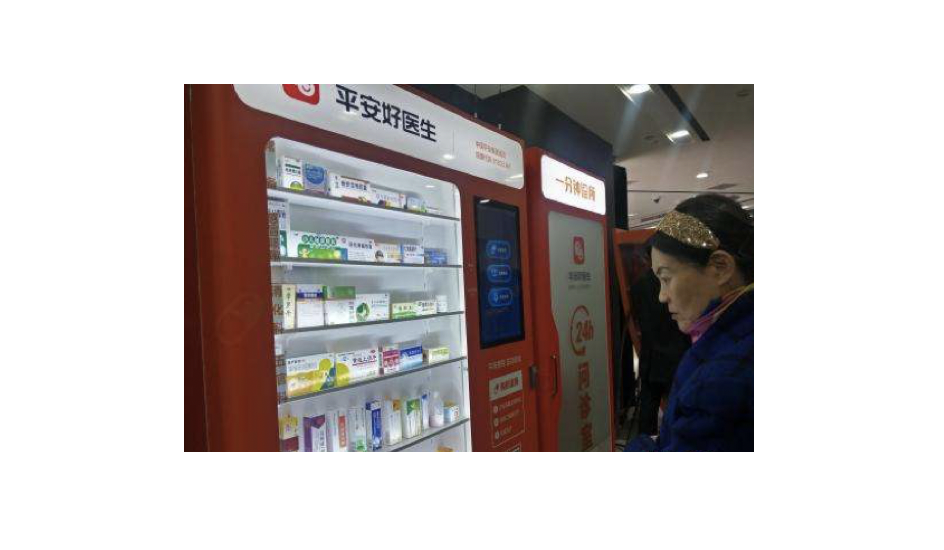 (3) Consumer Healthcare and (4) Health Management and Wellness
These two segments respond to what is described as 'proactive' healthcare demand earlier above. Health check-ups, genetic testing, cosmestic care are typical examples of consumer healthcare, which focuses on improving health well-being instead of direcly addressing disease or adverse health conditions for middle-class families with elderly people. Also, health management and planning tools are gaining tractions among young people.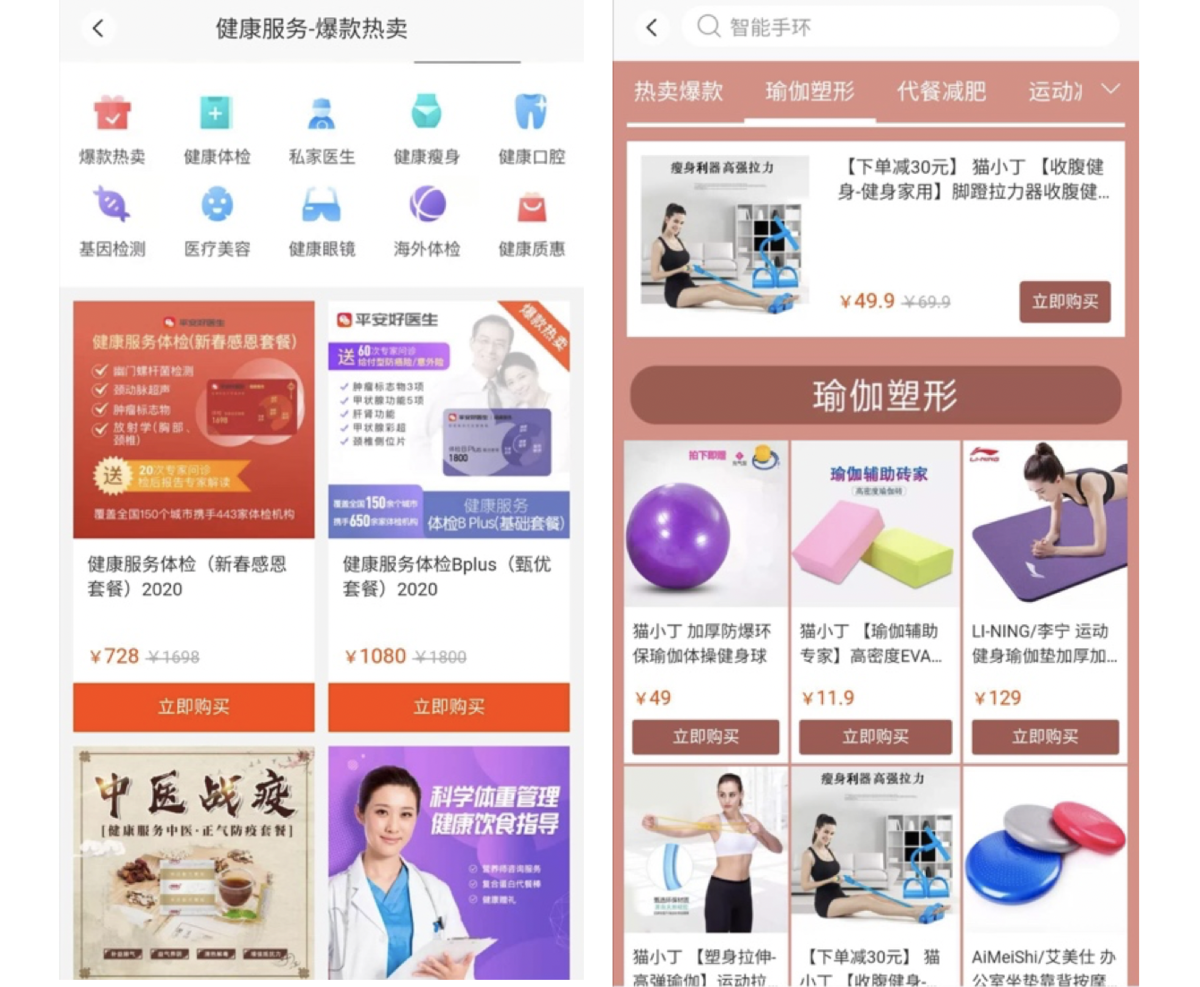 (User interface: consumer healthcare and wellness)
Overall, as of 2019, Ping An Good Doctor has not yet materialized profitability. Across four business lines, health mall continues to be the biggest contributor to total revenue, while health management and wellness has the highest gross margin given its light-asset nature. Online consultation and diagnosis has seen a bounce-back in gross margin improvement, since corporate subscription model was introduced in 2018. However, in the short to medium term, this business line will likely to remain unprofitable – the expansion of in-house doctor team will drive up costs, while the pricing has a ceiling set by regulators, eating up the margin that is already very thin.

(Revenue breakdown and Gross Margin by business line.
Data source: Sinolink Securities; Everbright Securities)
Healthcare innovations is going digital, and at the same time, it is going global. In Indonesia, Ping An Good Doctor is partnering with Grab, the largest on-demand local service platform, to develop GrabHealth, a similar digital healthcare solution. It also has formed a joint venture in Japan to replicate its experience there.
What does the story of Ping'An Good Doctor mean for other emerging markets?
Looking at the underlying market forces of healthcare sector, many developing countries face similar constraints and barriers like China: scarcity of medical resource available (doctors, hospitals, examination facilities etc.); poor management and mobilization of limited resources, which in the end is reflected in low access, poor quality of service and losses for families and the entire economy and society.
Scarcity of medical resources: In Nigeria, for example, there is 0.38 physicians per 1,000 people according to World Bank statistics. It is 0.27, 0.7 and 1.7 in Indonesia, South Africa and China. In contrast, there are, on average, more than 2.5 medical personnel for 1,000 people in the United States.
Poor management and mobilization of limited resources: Nigerian patients have to wait, on average, six hours in hospital, according to a survey. Almost four hours out of it would be spent on manual pre-documentation. 
Increase in mobile money penetration: mobile money is vastly disrupting the payment systems in some countries such as Kenya, Ghana, among many others. Digital platforms can leverage the mobile payment infrastructure.
All these pull and push factors demand a smarter solution for better access and better quality in the existing system. However, there are notable challenges in other emerging markets that may look different from China.
Demographic and disease outlook: In general, developing countries have a youthful population structure. According to United Nations, in 2015, there were 226 million youth in Africa, representing almost 1/5 of its total population. And it will continue to grow. By 2050, 945 million young people will be living in and supporting African economies. This means that, the causes of sickness or reasons for visiting hospitals can be different from chronic diseases seen in China that are more elderly-prone. However, what is likely to happen is that, high birth rates will create more demand for pregnancy and baby care-related medical services.
Healthcare expenditure: Across Sub-Saharan Africa, 5% of GDP per capita is spent on healthcare, which is on par with the level in China. However, the different GDP bases indicate a much lower price ceiling, limiting the upsides of total addressable market. In countries like South Africa, public healthcare is provided for free, and developing a strong and valid case for a sustainable business model for digital healthcare that depends on public healthcare is even more challenging.
Pharmaceutical supply chain: Counterfeits and fake drugs are prevalent in many African countries, which caused not only body or organ damages but even deaths. Drug supply change hands so many times in between, and when it arrives open markets and street vendors, it is very hard to verify its authenticity and trace its origin.
Insurance coverage: 97% of people in China is covered by basic public health insurance schemes, and is piloting in few cities to allow users to pay with insurance on digital healthcare platforms, which will incentivize broader adoption of digital solutions. But in a lot of emerging markets, health insurance coverage is very low. For example, in Kenya, 51% of people are not enrolled in any insurance plans and have to make out-of-pocket payments. 
Medical tourism: According to World Bank statistics in 2015, African population spent $1 billion on medical tourism abroad, with South Africa and Dubai being the most popular destinations for medical treatment. How to facilitate cross-border healthcare expenditures in such a digital context? How will regulations come into the play?
Where there are problems, there's always a good opportunity for creating a solution.
For example, Helium Health, a digital healthcare startup based in Nigeria, after raising $10 million Series A funding earlier this year, is now expanding its service line from hospital-faced digital electronic records system to digital payment and credit solutions to hospitals and insurance providers. In addition, it is starting to try out patient-oriented products that are similar to the online consultation services provided by Ping'An Good Doctor.
mPharma, a Ghanaian startup with a pan-Africa vision, rolled out QualityRx pharmaceutical chain stores to provide quality drugs in local communities through digitizing the value chain, while enabling affordability by offering digital credit solutions to end users. So far, more than 400,000 patients from five countries have been able to save 30% to 60% costs on medication.
Healthlane, one of Future Hub's portfolio companies, is innovating access to doctors through digitizing the information flow for outpatient visits – patients can now go through fast tracks in hospitals, and save huge amount of time and energy for more economically productive activities.
54Gene, a biotech startup, is aiming to transform the healthcare research infrastructure in Africa by building genomics and DNA database for Africans, thus hoping to find more effective treatment solutions for diseases that people are prone to getting affected by.
Entrepreneurs are already in action. We are excited to be part of the adventurous journey to support innovations in the healthcare sector.
COVID-19 is the largest public health and humanitarian crisis in our generation. We couldn't help but to ask ourselves, as millennials born in the digital age, can we find our ways to address this global challenge, and to improve the healthcare system so that tragedy does not happen again? Can we avoid these huge societal, financial and economic losses with digital solutions? How do we build a lasting business solution that serves the need of individuals in emerging markets like you and me? We do not have a concrete answer yet. But we hope this discussion can bring more intelligent and informed discussions.
Author: Olivia Gao from Future Hub
Sources:
https://www.premiumtimesng.com/news/headlines/258454-feature-patients-lament-long-waiting-time-nigerian-hospitals-govt-seeks-solutions.html

https://allafrica.com/stories/201909240065.html