Meituan (HKEX: 3690), a leading Super App for local life services in China, is celebrating its 10th anniversary this year, with 1.17 trillion HKD /142 billion USD market capitalization (as of July 17, 2020) and a stellar performance after its IPO in 2018.
As one of the earliest adopters of online-to-offline (O2O) business model in China, Meituan's story is full of experimentation, adaptation, and reimagination. This is why we would like to share our observations on Meituan and we hope this helps to trigger broader discussions among entrepreneurs in many other emerging markets.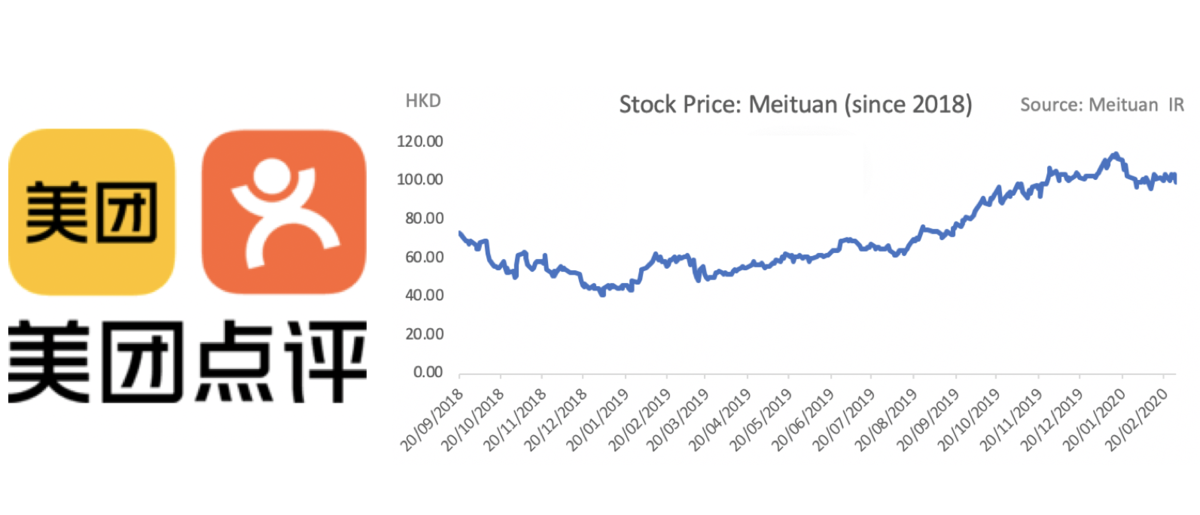 This blog is part of the 'Future Insight Series' which features case studies of Internet tech-enabled startups in China to encourage discussions on business models that disrupt traditional economies and enable economic and social advancement in emerging markets. At Future Hub, we are fully dedicated to innovations across the African continent by leveraging our knowledge and connections in China's tech ecosystem. We partner with, incubate, invest in, and support visionary local entrepreneurs to build a bright future for Africa.
Disclaimer: Author of this blog article makes best effort to provide information and analysis based on publicly available data and information, but not liable for any direct, indirect or consequential losses, loss of profits, damages, costs or expenses arising out of the use of information contained in this blog. This article only reflects the author's observations and opinions, and does not constitute any investment recommendation.
Copy to China or Copy from China
Initially started as the equivalent of 'Groupon' in China, Meituan has gone through a long journey to where it stands in the startup ecosystem in China. It is a pioneer, an early-adopter and now a leader in the O2O local life service industry with a Super App model that encompasses almost every aspect of our life, ranging from on-demand food (and non-food) delivery, movie ticketing, ride hailing to hotel and travel booking. Here is a snapshot that shows a variety of local life services available on the Meituan APP.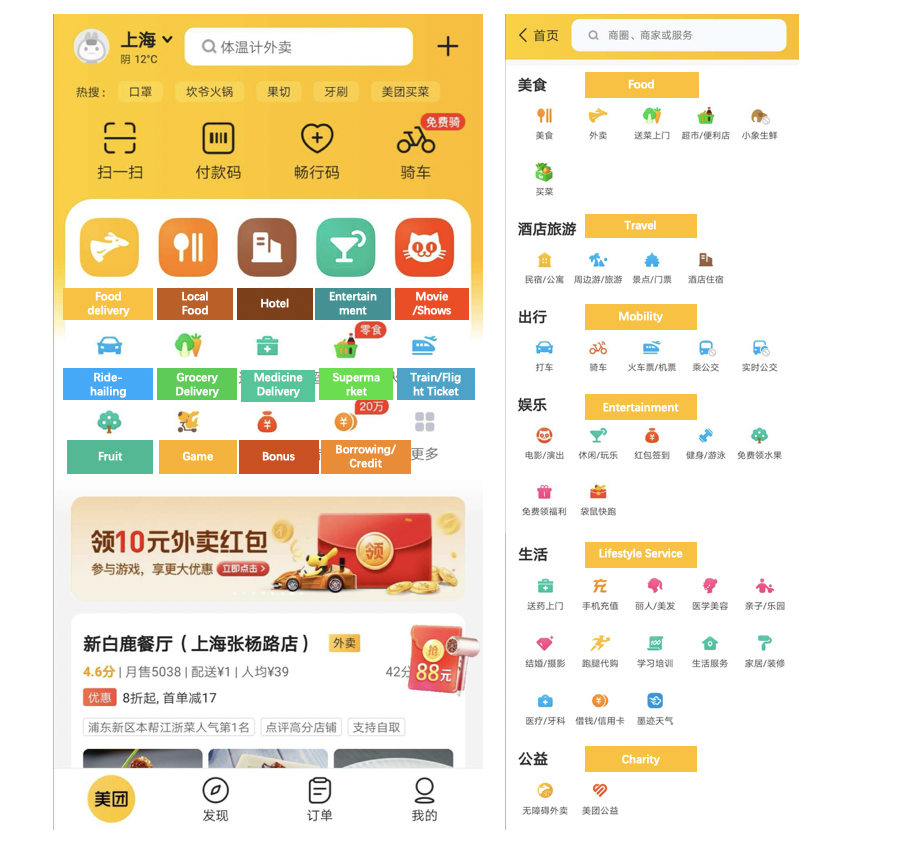 As a matter of fact, Meituan is not the only player who sees the upsides of the scale effect and tries to take advantage of it as much as possible. From a global landscape standpoint, Grab and Gojek are leading the game in Southeast Asia, whereas Glovo, a European startup based in Madrid, has recently expanded into Sub-Saharan Africa to provide tailored food, drink, and grocery delivery solutions for local customers.
Despite the increasingly intense competition from every corner of the world, Meituan manages to remain strong in the domestic market. As of Q3 2019, the annual transacting users reached 435.8 million with 26.5 transactions each on average annually, which indicates an YOY increase of 14% and 17% in terms of number of users and transactions respectively.
(Data Source: Meituan Investor Relations)
So, what is the secret recipe that has made Meituan so attractive to the mass market in China? What lessons can we learn from Meituan?
Before jumping into detailed analysis, we would like to reiterate the disclaimer here: All the data points are collected from publicly available resources, including the annual/quarter reports disclosed by Meituan on its investor relations website, and some other secondary sources such as equity research reports that we will leave links for your reference at the end of this video – for those who are interested, feel free to check those sources or reach out to us if you have any question.
Unfolding the Past and Present of Meituan
Rome is not built in one day. The graph below is a simplified visualization of when and how Meituan collected each block along the way and eventually built its own empire.
In 2010, when Groupon proved the feasibility of its model on the other end of the planet, many entrepreneurs started testing water for the same idea in China, and Meituan was one among the first batch of enthusiasts. However, very quickly the race got extremely tense and by 2011, there were more than 5,000 Groupon-like startups in China. Many companies were aiming at massive expansion within a very short period of time to win over other competitors, by offering consumers a lot more subsidies and burning cash at an unsustainable speed, and only ended up with failure to secure follow-up capital injection from investors.
Meituan, luckily, who survived after the fierce fight, consolidated its foundation, and started to reach out for more areas and business lines.
In 2012, it started Maoyan Dianying, an online movie ticketing service
In 2013, it stepped into the food delivery business as well as hotel booking
Later on, Meituan tapped into the business of travel booking, on-demand delivery for non-food retail goods, 'Paotui' for P2P direct delivery and so on.
In 2015, Meituan acquired Dianping, which modelled after Yelp and had gained huge traction – it had millions of authentic user-generated reviews and was already the No. 1 go-to platform for checking information restaurants and shops nearby. This acquisition made it possible for Meituan to build what is commonly referred as 'moat' (the ability to maintain its competitive advantage no matter what changes externally), and to run up-front against many late-comers in the O2O local life service industry. As of today, Meituan has become the central and one-stop platform for many consumers looking for economic and quality offers of food, travel, entertainment etc. Beyond the quality of user-generated content, this move also enabled Meituan to build close relationships with restaurants and local service providers, as they now use Meituan's platform to market themselves to hundreds and millions of users who have never visited their outlet before.
Very recently, Meituan expands into the mobile power-bank sharing business by leveraging its massive network of offline service shops, outlets and restaurants that had been part of Meituan's journey already. At this point, Meituan has much easier access to these locations where it will place its power bank facilities.
Year by year, piece by piece, step by step, it realized that with the strong consumer base, a lot more services can benefit from the scale of its network that enables not only low cost of user acquisition but also the multiplier effect – this is particularly true for those even unconnected and infrequent services and use case scenarios. All putting together, the concept and prototype of a Super App for local life services reveals itself so clearly.
Meituan may have already developed such vision back in 2011. Or, contrary to that, the 'Aha moment 'did not occur to the management until they noticed the potential synergy arising from different business lines. We do not know. But that does not matter. What is more important to note is that, now Meituan is positioning itself as the 'e-commerce platform for services' (analogy to Alibaba: the e-commerce for goods), and is taking forward the 'food plus platform 'strategy to really nail the 'Super App' game.
As claimed in its IPO prospectus, Meituan's mission is to 'help people eat better, live better', which views the demand for better food as the anchor of its core business, and then to layer on other O2O scenarios catering to the desire for better life experience.
'Aha Moment':
Unpacking Meituan's Business Model
The management of Meituan view their business as a three-segment entity by the nature of operation and business model, which are (1) on-demand food delivery, (2) in-store dining and purchase, hotel and travel booking, and (3) new initiatives and other, including the biking-sharing service that they recently bought from Mobike. Let's break it down and take a deeper dive into its business model.
1. On-demand food delivery
Prior to 2015, Meituan relied on external and third-party manpower to deliver food to consumers, but it was not cost-effective at all, and on average, one rider can only deliver 8 to 10 order per day.
In recognition of the importance of having its own delivery network and streamlining the entire process, Meituan started to build its in-house delivery team, and an AI-powered dispatch system that optimizes the route planning for riders. Although there remains a small proportion of riders who are outside their network (either provided by the merchant or crowd-sourced), the majority of the riders are trained by and dedicated only to Meituan. In 2017, there were 2.9 billion orders within the Meituan delivery network, which accounted for 70% of total orders. The AI runs about 2.9 billion times of route planning during peak hours in 2017 and the average intra-city delivery time is less than 30 minutes.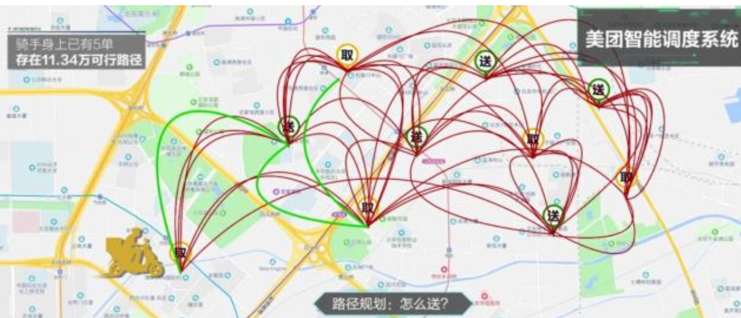 In addition, given that riders have to multi-task while riding the scooters, in 2017, Meituan launched the smart earphone which allows riders to interact with the dispatch system without checking the phone manually. Before such earphone was introduced, riders had to multi-task while riding the scooter, and no doubt it was highly risky. For example, the rider had to find out the location of the merchant and the consumer, and set aside time for elevators or stairs, and in most cases, the info displayed on the screen is delayed so they had to check their phone again and again – all these procedures are now integrated into this interactive voice system and riders can now focus on maximizing the utilization of time to earn bonus from extra deliveries thanks to these smart earphones (see picture above).
As of 2018, Meituan had over 2.7 million riders within its network, and 77% of them were rural migrants, born after 80s, and dominantly male.
You might be wondering, does Meituan have the financial capacity to bear all these costs going into hiring these riders? Or, how possible is it for Meituan become profitable relying solely on food-delivery business?
Currently, merchants opting out from Meituan's delivery system will only be charged for the commission fee, whereas for those who rely on Meituan's network, they will be responsible for the delivery fee in addition to the commission, and then part of the delivery fee is passed on to the consumers.
However, still, it is notoriously known that food delivery is a human-capital-intensive business with relatively low margin. If you take a look at the financial report of Meituan, it is even more obviously true. As disclosed in its interim report as of Q2 2019, food-delivery accounts for 56% of the total revenue, while taking up more than 67% of total cost.
(Data period: 12 months as of June 2019
Data Source: Meituan 2019 Midterm Report)
The main reason behind this is that, the unit delivery cost of each order is not entirely absorbed by the merchant or the consumer. In fact, in order to keep riders to stay in their network, Meituan has to subsidize them, especially in harsh seasons or under extreme weather, and this certainly drives up the cost.
Besides the subsidy offered to riders, Meituan also keeps some level of subsidy to consumers as consumers tend to be price-sensitive to takeout food and some big players are still trying to get more market share. But the good thing about that, is that competition is no longer that brutal as compared with what it looked like a few years ago.
As of Q2 2018, Meituan has become the leading food delivery platform and earned much more market share than the old player Eleme. In addition, it also started on-demand delivery for non-food products such as medicine, flowers, fruit, among many other categories.
In the conference call of Q3 2019, the management stated clearly that, although the growth is very positive in Q3, they do not expect the growth to be sustained going forward. The growth was accredited to the increase in market share (which may already have reached the highest point), and without further expansion of this industry, the growth could be slower in the coming quarters.
However, the management viewed the food-delivery segment as a critical gateway to engage with consumers, and they believed that it could play a bigger role in convincing existing consumers to try out other local services on its platform. Meituan strategically decided not to monetize the food delivery business, rather to focus on its connection with other low-frequency yet high-margin segments. In a second we will see how this plays out in its in-store dining or purchase, and hotel/travel booking business.
2. In-store purchase hotel and travel
As stated in its IPO prospectus which said that 'Transacting users are not our customers', the core value proposition of Meituan's in-store dining, purchase, hotel and travel business is to serve the corporate/merchant customers, and to bring in more target consumers through its big data algorithm which enables tailored marketing and advertisements sent to users. This pretty much inherited the DNA from Meituan version 1.0, which was a group discount platform that eventually improves the user traffic and offsets revenue losses from discounts and coupons. Advertising fees and transaction commission fees are therefore the main revenue drivers for this line of business.
In contrast with the food-delivery services, this line of business does not require significant labor inputs – it is very asset-light and can have relatively less volatile cash flows. Typically, once the merchant signs a contract with Meituan, it can access the digital marketing and other ancillary services for a year/or a certain period of time, and in return Meituan receives the advertising fees up-front and can move on to acquire the next merchant customer.
Currently, in-store dining and purchase, hotel and travel accounts for the smallest proportion of total COGS (4%). The accompany numbers may further explain how lucrative this segment is, which is that the gross margin for this segment is about 88%, whereas the food delivery can only generate a gross margin of 22%.
Some may argue that such digital marketing business has low entry barriers and that any platform that is willing to dedicate resources to acquire as many merchant customers as possible can quickly gain an edge over Meituan. In the latest conference call (Q3 2019), one question from the audience was around the competitive advantage of Meituan over other vertical platforms or mapping APPs (such as Baidu Map) who are also catching up and are attempting to provide smarter solutions for location-based recommendations for restaurants, shopping malls, trip tips, etc.
The answer from the management was that, the high-quality user-generated content (mostly consumer reviews), along with the coupons and free trials, has contributed to the solid performance of Meituan in terms of attracting user traffic and maintaining its market leadership position. The acquisition of Dianping in 2015 has greatly leveled up the foundation of Meituan in terms of UGC and it is the strength, or the 'moat' as we mentioned earlier that others cannot easily break through.
Conventional players in some verticals such as Ctrip (which started its hotel and travel booking business back in 1999) has already felt the pressure of losing over to this late-comer and disrupter, Meituan.
The answer from the management was that, the high-quality user-generated content (mostly reviews), along with the coupons and free trials has contributed to the solid performance of Meituan in terms of keep attracting traffic and maintaining the leadership position. The acquisition of Dianping in 2015 has greatly leveled up the foundation of Meituan in terms of UGC and it is the strength, or the 'moat'as we mentioned earlier that others cannot easily break through.
Conventional players such as Ctrip (which started its hotel and travel booking business back in 1999) has already feeling the pressure of losing over to this late-comer and disrupter, Meituan.
3. New initiatives and other services
In 2017, Meituan started providing homestay and ride-hailing services. Following that, before Meituan went public, it acquired the bike-sharing company, Mobike in 2018. It looked like Meituan has restlessly taking on new businesses that either has already a dominant player in the market or yet to prove profitability. In fact, it was not until 2019 that Meituan has achieved overall profitability, and it was largely held back by the new initiatives that were money-losing at that time.
However, investors have demonstrated strong confidence in Meituan at and after its IPO, which lies not only in the fact that Meituan had a very good cash/liquidity position but also the alignment with the Meituan's 'food plus platform' strategy (A.K.A SuperApp strategy), which leverages the scale effect of high-frequency consumption scenarios and converts the users to services that are less frequently needed while have much higher profit margins. Afterall, the fact that new initiatives have started to gain profits is the best proof of synergies and multiplier effects that Meituan was planning to see.
Recapping Success Factors of Meituan
When it comes to the success factors of Meituan, different people might come to very different answers. Some would attribute it to the prior entrepreneurial experience of the founding team, while some others would point to the acquisition/fundraising strategies.
Alongside these necessary factors, we would like to revisit the Super App model and focus our discussion on the lessons learned from its inception to its materialization in China.
At the core of Meituan's evolution, building up high frequency use case scenario (food delivery) enables Meituan to achieve low user acquisition cost, improves user stickiness, and increases the user lifetime value. Additionally, it creates room for cross selling products. For example, in 2017, over 80% of hotel-booking service and 74% of other lifestyle services were converted from food delivery and in-store dining consumer categories.
Equally importantly, data is an integral part to every aspect of Meituan's business. From on-demand delivery route planning to merchant marketing, data analytics and tailored user experience have made it possible for Meituan to gain a high retention rate, to maximize the value of repeat consumers, extend user lifecycle, and to become the household brand for local lifestyle services.
Can Meituan's success be replicated in other emerging markets?
In Southeast Asian markets, on-demand and multi-service platforms such as Grab and Gojek are leading the wave. Different from food delivery, however, bike-hailing was the main gateway that brings in other services, enable fast and low-cost user acquisition, and eventually helped them achieve the 'Super App' status.
In Sub-Saharan Africa, with growing adoption of smartphones, younger population yet underdeveloped urbanization, mobility becomes the most frequent challenge people face and live in every single day. Many motorbike-hailing companies have emerged in the past few years to address dire need for efficient modern transport. Nonetheless, the journey to a 'Super App' in African markets may not look the same as what Meituan had been through, given the fundamental differences in African markets themselves, and the venture investing ecosystem in Africa.
Informality still defines the nature of many small and medium sized businesses across Africa. Mom and pop shops, brick and mortar stores, as well as open markets are less likely to facilitate similar in-store purchase experience and 'Groupon-like' marketing campaigns as in formal retail businesses. Moreover, aggressive expansion does not come at no cost. Meituan survived the price war in China, but the fight was extremely hard and painful. Can startups in other markets afford cash burning? Can governments be supportive, or at least not captive, in terms of guarding fair competition and ensuring level playing field? Even if all conditions are met, can such aggressive expansion really win customers' confidence, in an environment where trust is built and maintained at a slower pace?
Opay, one of the digital payment platforms in Nigeria, once had also dreamed about being such a pan-Africa 'Super App'. Embarking its journey in 2019, Opay launched products for different verticals including ORide and OTrike for bike-hailing, OFood for food delivery, OMall and OTrade for e-commerce, Oexpress for logistics, and was planning to roll out more services. Opay raised $120 million in November 2019, and interestingly, Meituan was one of its investors. With such huge amount of capital injection, everyone was expecting a legendary story of a unicorn Super App born in Africa.
However, Opay's aggressive expansion's plan did not go so well. Earlier this year, Opay announced that it would temporarily shut down its non-fintech business lines, including OFood, OExpress, ORide, etc. It may not be an end to the dream of a Super App, but it certainly reflects the structural challenges that exogenous solutions fail to address, and calls for deeper thinking around how to build products that are most needed by mass markets, welcomed by governments, and that are respectful to economic and social conditions (sometimes invisible or hard to detect) surrounding the business itself.
Author: Olivia Gao from Future Hub