Return to site
E-Logistics Transforming Mid-mile Freight Logistics in Emerging Markets: Stories Told and Untold
The headline stories of Uber and the associated huge potential of the shared economy led to waves of innovation in the logistics industry – with Uber being the marketplace for passengers and drivers, global innovators are inspired to build a digital brokerage for truck drivers and shippers, AKA 'Uber for Trucks'.
In the United States, Transfix became one of the pioneers in 2013, and was followed by the formation of Loadsmart and Convoy in 2014 and 2015 respectively. Even Uber itself launched its own 'Uber Freight' in 2017. More interestingly, emerging markets are not left behind. For instance, in India, according to Crunchbase, the five-year old Blackbuck has raised $297 million so far, with Accel and Goldman Sachs leading its Series D fundraising in 2019.
In China, Yunmanman emerged as one of the leading players since 2013, and merged with Huochebang, its former rival in the competition, to become one entity 'Manbang Group (also known as Full Truck Alliance Group') in 2017. After the merger, Manbang Group quickly landed $1.9 billion investment led by Softbank Vision Fund and China Reform Fund in 2018.

(Examples of 'Uber for Trucks' across the globe, non-exhaustive, compiled by author)
By no coincidence, this illustrates exactly how strong the enthusiasm and confidence that investors and entrepreneurs have in the disruptive power of digital innovation to revolutionize logistics industry across the globe. According to Frost & Sullivan, global digital freight brokerage market is expected to reach $54.2 billion by 2025.
With growing interests and competition in this sector, we would like to share our observations on the evolution of Yunmanman (which later became Truck Alliance/Manbang Group), and discuss similar or different challenges of operationalizing the 'Uber for Truck' business model in the context of emerging markets.
This blog is part of the 'Future Insight Series' which features case studies of Internet tech-enabled startups in China to encourage discussions on business models that disrupt traditional economies and enable changes in emerging markets. At Future Hub, we are fully dedicated to innovations across the African continent by leveraging our knowledge and connections in China's tech ecosystem. We partner with, incubate, invest in, and support visionary local entrepreneurs to build a bright future for Africa.
This blog is part of the 'Future Insight Series' which features case studies of tech-enabled Internet startups in China to encourage discussions on business models that disrupt traditional economies and enable changes in emerging markets. At Future Hub, we are fully dedicated to innovations across the African continent by leveraging our knowledge and connections in China's tech ecosystem. We partner with, incubate, invest in, and support visionary local entrepreneurs to build a bright future for Africa.
Disclaimer: This author of this blog article makes best effort to provide information and analysis based on publicly available data and information, but not liable for any direct, indirect or consequential losses, loss of profits, damages, costs or expenses arising out of the use of information contained in this blog. This article only reflects the author's observations and opinions, and does not constitute any investment recommendation.
Mid-mile logistics in China:
Trucks, Drivers, Shippers, Loads, Routes and More
Ever since the invention of trade as an important pillar of economic activities in human history, there has been always a need to move goods from one place to another, by train, by road, by air, and more recently, by drones. The scale of such movement continues to expand, which is accredited to the advancement of modern transport infrastructure and accelerated industrialization. All these come together and have shaped a tiered structure of this industry: first-mile, mid-mile and last mile logistics.
Since the focus of the topic today is about the model of 'Uber for Trucks', it is critical to understand how the trucking/logistics system historically functioned in China.
Traditionally, (and very much still the case today), trucks are the main powerhouse of mid-mile transport, moving goods between cities, across provinces, and sometimes across borders, while vans and smaller vehicles are more often seen in last-mile and same-city logistics (below 100km). According to Qianzhan Research, road transport takes more than 78% of total goods being transported in China, significantly exceeding the share of waterway (14%) and railway (7%).
Essential to a functioning road logistics system are drivers and shippers. This conceptually is comparable to dynamics of passenger-driver relationship in a ride-hailing business. However, there are some outstanding differences: less random distribution of truck drivers and goods, much longer distance of transportation, less standardization of goods, among many other factors, all add to the complexity of mid-mile logistics. In other words, it would be naïve to assume that a digital solution for mid-mile logistics would be a replication of how ride-hailing platforms took over offline taxi business.
In China, different from some of the more developed economies, individual truck owners working on their own are the majority among the total driver pool, despite the fact that some owners do also work with third-party logistics (3PL) companies, on an occasional basis. The cost of a truck ranges between $50,000 and $60,000, which is not unaffordable if a truck driver can borrow funds from families and friends and repay them with profits earned later. As more and more independent truck operators (in most cases one or two drivers) enter into the market, the supply side of logistics services is highly fragmented and uncoordinated. It is estimated that there are around 7.5 million such small and medium sized truck operators in China, with top 20 taking up less than 2% market share, showing very different market dynamics in comparison to the United States.
Sourcing goods has been, and continues to be a challenge. Shippers with goods to be transported can always go around and get a driver nearby, but for many individual truck owners, especially for those who come from the southern coastal regions of China, logistics parks/hubs are the only go-to place if they want to source goods back to their city, after dropping off goods in City B. Usually, these logistics parks are located 100km away from the city, and drivers have to bear such cost of additional mileage by themselves.
As depicted in the picture below, one can expect to see many blackboards lining up outside offices in the logistics park, on which shippers write down details of goods to be transported, desired routes and their contact info. Not only drivers use it as a primary source of information, tons of brokers and agents constantly check the updates on these boards in order to get in touch with the shippers ahead of drivers, and then try to nail a deal for them. Brokers and agents also have their own network. Year over year, as they become more experienced, they are more integral and essential to the entire ecosystem, making up an informal marketplace that serves shippers and truckers just well.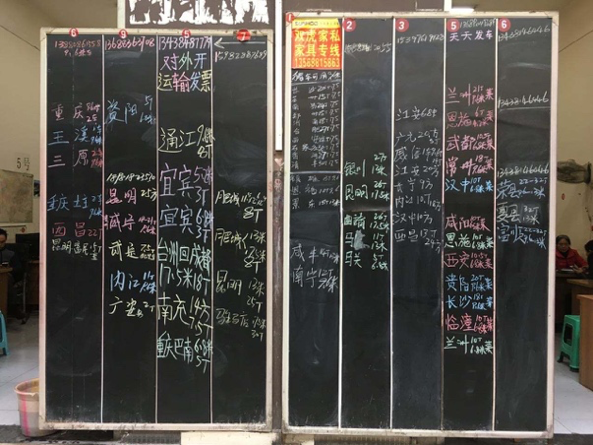 Due to the complexity of lengthy value chain and multi-city transport routes, there are, in many cases, more than one middleman in between, adding up layers of profit margins and resulting in much higher transaction costs for end buyers. Moreover, drivers who have finished trips to drop off goods in another city may sometimes end up not having the luck to land a deal going back to his or her departure city. As a result, empty-loaded rate in China is estimated to be around 37%, which is very high compared to developed markets like Germany (13%) and United States (10%).
On the other side, demand for transporting goods to other cities has been driven by better connectivity, and growing inter-city trade activities. As Analysys estimates, from 2012 to 2017, total volume of goods transported on road in China increased by 20% to about 40 billion tons per year, i.e. more than 100 million tons every day.
In early years of mid-mile logistics development, contract logistics has worked well for shippers, and it was not so much of a challenge to find long-term transport partners that are reliable and cost-effective. However, with expanded trade networks and more diversified supply chains against the backdrop of economic boom in China, traditional contract services are failing to provide more customized services that cater to the shifting needs.
Skin in the game: Winning the market is a hard fight
Increasing level of fragmentation and inefficiency on both supply and demand sides provides an excellent opportunity for innovators to shine. Since 2013, the concept of 'Uber for Trucks'started to gain more public attention, discussion, and private sector experimentation. By 2014, there were more than 200 startups jumping straight into this field, all hoping to be the next 'Uber-like'unicorn in China.
Between 2014 and 2015, every startup was trying to grab a slice of the market, which certainly intensified and magnified the competition. Behind the scene, hitting that next 1% market share is a brutal fight. However, looking at it from a different angle, it was also a period when the mass market got educated. More and more drivers became aware of various digital platforms where they can get better access to shipper information.
In 2016, the entire ecosystem of'Uber for trucks' started to see some consolidation among competitors, and what marked the end of a two-year long race was the announcement of merger between two leading rivals, Yunmanman and Huochebang, in 2017. For those who have read our discussion on Meituan, this pattern may sound very familiar, as the so-called Matthew effect is very commonly seen in the tech ecosystem in China.
So, how did the market react to digital innovations? To help our readers put the narratives into prospective, we found a market research conducted by Huochebang, the former enemy and current ally of Yunmanman, which said that by 2017, the majority of drivers is between 40 and 49 years old, male dominated, and mainly comes from Heibei, Henan, Shandong, Jiangsu and Anhui provinces. It also revealed that distance-wise, 200 to 500 km is the sweep spot for many of them because long-distance driving can be exhausting and do not necessarily get rewarded in proportion, despite that generally speaking, anything less than 2,000 km is also acceptable. More interestingly, with the two-year combat going on among startups, adoption rate of such digital solutions such as different versions of 'Uber for trucks'increased by 56%. In addition, for those active users, over a half of their orders come from online marketplaces and because of the benefit of such APPs, their empty driving rate decreased to 14%, much lower than the industry average.
All sounds rosy and exciting. Yet as mentioned earlier, in order to bring the best service possible to table, startups had very hard fights along their way. So, let's talk a little bit more about the story of Yunmanman and Manbang Group.
Yunmanman: Uber-like, or Uber-unlike?
A marketplace is a two-sided platform. Without buy-in from both sides, it is very challenging for a marketplace to operate on its own terms. What has leveled up the complexity of operating a digital logistics brokerage platform is the old and traditional form of marketplace, i.e. different sub-networks of brokers and agents who were so active and visible on the ground, talking to shippers and drivers and making deals happen every day. Do you force them out, or do you find a way to work with them?
Founded by Hui Zhang, an Alibaba veteran in 2013, Yunmanman went with the first path. Starting from the city of Nanjing, where it is based, Yunmanman built a huge team fully dedicated to business development, i.e. paying visits to logistics parks city by city and pitching to shippers and truck drivers, sometimes in the middle of their talk with a broker. The underlying rationale is that, as Zhang mentioned in a public interview, execution strategy is what will set the leader apart from others instead of the matchmaking model itself. By 2016, there were already more than 1,300 people in this BD team, and many of them visited more than 50 cities across China every year, eventually piling up critical and foundational blocks of Yunmanman. What these business development representatives also had to deal with, was the conflicts with brokers with huge influence within their network, both verbally and non-verbally. As brutal as it could be, Yunmanman got their first win in the market and started to pivot itself to services that have higher barriers of entry.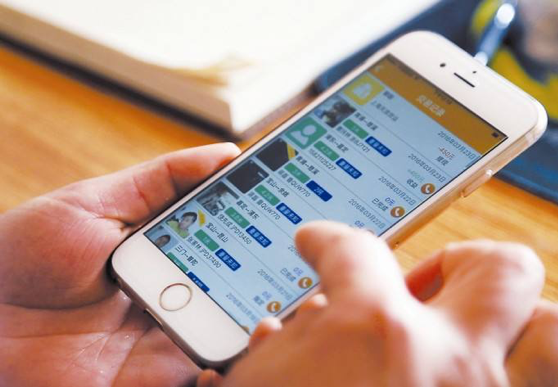 Raising the Bar:
More than a Uber-like marketplace
While it keeps improving user stickiness with better user experience, Yunmanman aspired to achieve much more. With a few years of operation, Yunmanman has gathered sufficient information and data which they intended to make the best use of.
In 2016, Yunmanman launched its in-house AI-powered system, named 'Niumowang' that can reduce the matching time to 38 seconds, while achieving 98% accuracy when predicting settling price. This t cannot be achieved if Yunmanman hadn't accumulated loads of data on user profiles, user behavior and other information coming from every node of its gigantic inter-city movement network.
Besides, as drivers are also frequent consumers who pay for gas, toll, food, vehicle repairment and other services along the highway, Hui started to think about how his platform can tap into those use case scenarios as well. Huochebang, its rival at that time, had a similar strategy in mind, and was already building partnerships with more than 3,000 gas stations and offering digital invoice services to both shippers and truckers.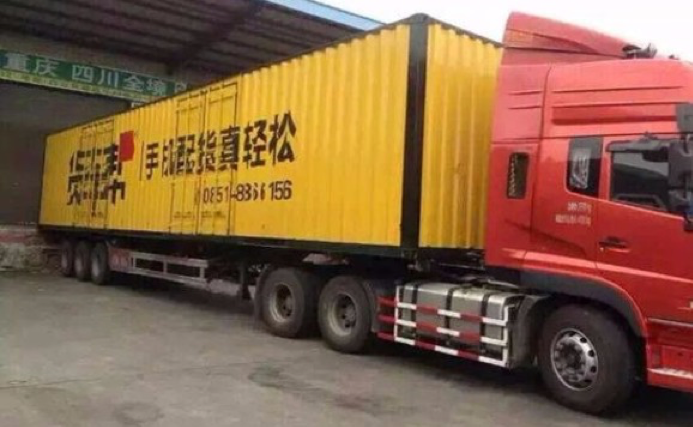 (Huochebang truck, source: AVCJ)
In addition to these value additions along the logistics service chain, another differentiator of these truck hailing platforms apart is the fact that payment process is not always as spontaneous as in the case of Uber. Simply put, shippers prefer to pay on delivery, while truckers prefer to see cash in advance. Therefore, developing strong capacities to meet the growing need for working capital is also integral to the strategy of Yunmanman.
Furthermore, to improve the efficiency of coordination among hundreds and thousands of requests at the same time, cargo classification is introduced on Yunmanman's platform in an attempt to standardize, and re-bundle the goods in a way that helps to maximize transport efficiency.
The announcement of Yunmanman merging with Huochebang was made in 2017. It was a critical milestone for both, after a long and exhausting war against each other.
Business model validated, the newly formed 'Manbang Group'raised $1.9 billion from prestigious investors, at a valuation of $6.5 billion, and better prepared and positioned to reshape the entire roadway logistics supply chain in China. Manbang made quite a few quick moves including its investment in one-stop after-sale car service platform JYBD in 2018, partnership with Faw Jie Fang, a car manufacturer, to explore opportunities in 'IoT for Cars', as well as launching its own second-hand car marketplace in September 2019.
As of 2019, more than 1 million shippers and 7 million truck drivers (more than 78% of heavy truck owners in China) are active on Manbang, and frequently place and take orders from each other, which to a very large extent transformed the mid-mile logistics industry in China.
Africa: Next battlefield of 'Uber for Trucks'?
One of the value propositions of 'Uber for Trucks'is its ability to narrow or eliminate information gaps between shippers and truckers. This is also true in the African context. As pointed out by Tayo Oyegunl (VP of Global Operations at Kobo360) in the Bullish on Africa webinar, in Nigeria individual truck owners are largely organized in very informal and ineffective ways. Empty-loaded trip is a huge challenge for many individual truckers. Aside from that, established truck fleet companies have a very small market share, and individuals are the most common truck owners, which results in highly fragmented truck ownership landscape.
In recognition of these commonalities, we would like to highlight a few outstanding factors to show the different nature of logistics industry in African markets.
First of all, unlike China or India, countries in Africa are much smaller in terms of territory size, and cargo shipping is usually associated with goods to be imported or exported at the nearest port, which in some cases are not located within the same country. Therefore, 'port to factory/distributor' routes are inherently shaped by cross-border transport infrastructure. As BCG concluded in the Pioneer One Africa report, interregional road and rail lines is still underdeveloped across Africa.
Despite some new initiatives to connect and integrate African markets including Africa Continental Free Trade Area (AfCFTA) which promises to release the 1.3 trillion intra-African trade potential, deficit in transport infrasrtructure will remain to be the underlying structural challenge for many freight brokerage startups in the near to medium term.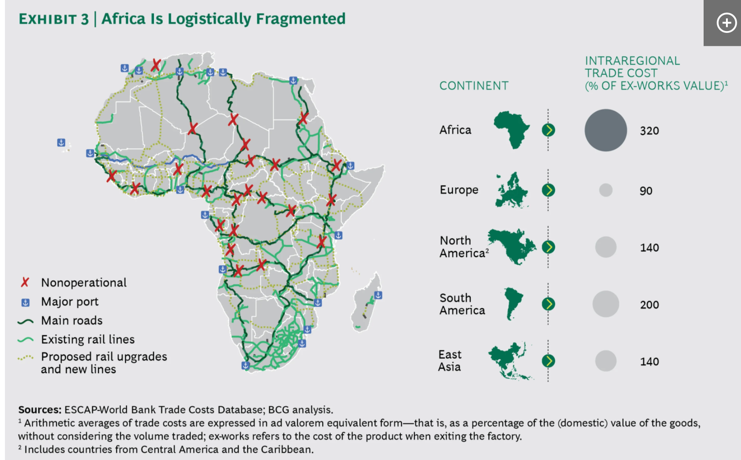 (Africa is logistically fragmented, source: BCG)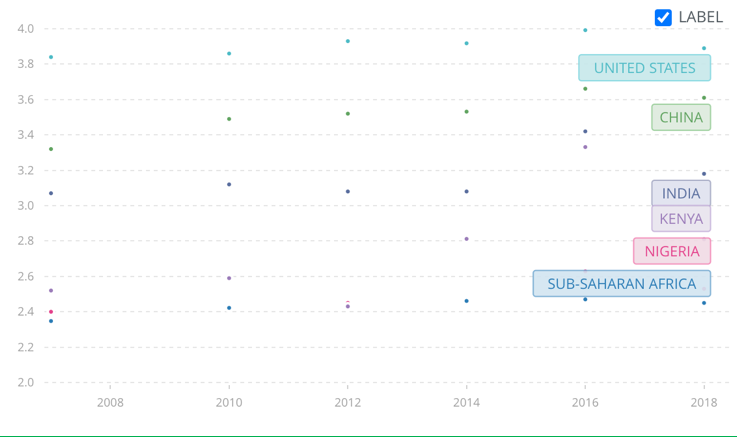 (World Bank Logistics Performance Index)
Second, the underdeveloped physical address system presents another layer of challenge on top of insufficient transport networks. Without formal and well-labeled locations, the benefit of route optimization enabled by tech platforms cannot reach its full potential. Good news is that startups such as OkHi and MPost are developing alternative address systems to pin down the location with mobile technologies, and hopefully these recent developments can go hand-in-hand with logistics innovations.
Furthermore, from a profitability point of view, what is being transported and then traded within the country and across Africa might be different from many industrialized economies. Most 'Uber for Trucks' platforms are commission based, and low value of cargo (e.g. in the case of commodities and agri-products) means a thinner margin it can hit compared to higher value industrial products.
Last but not least, vehicle financing is a much more pressing need in African markets, as opposed to an 'add-on' feature as seen in the case of Manbang.'Uber for Trucks' works in a two-sided market, which is very much conditioned by both truck supply and transport demand. Although in countries like Nigeria, individual truck owners are the majority group in the total supply pool, it does not mean the current level of supply is good enough to address the growing cargo needs. To increase the supply of truckers, making sure that drivers have the ability to pay for truck purchase becomes critical. However, due to the fact that most trucks are imported from other parts of the world, price of trucks is still very high given the income level for an average driver. Vehicle financing therefore becomes highly relevant and needed for such platform to scale up.
Relatedly, insurance and other financial instruments to further support drivers are equally essential. As Obi Ozar, Founder of Kobo360, said in one interview, security risk still remains to be a headache for many drivers, especially when they have to drive through less stable areas.
All these challenges being said, Uber for Trucks is still an attractive concept, and some early adopters are already testing the water in Africa. Two of the most famous examples are Kobo360 that raised $20 million led by Goldman Sachs in 2019, and Lori System which raised $30 million Series A in the same year. Some new entrants are also gaining attention. For example, Amitruck recently netted some undisclosed investment from Greentec Capital.
Lori System has been working in Kenya and Uganda since 2016, and recently expanded to West African markets. It mainly targets trading corridors for agriculture goods and has been able to move around 40% of grains in between, cutting the transportation cost by 17%, as reported in one news release. (source: TTnews).
Kobo 360, founded in late 2017, was accepted into Y Combinator and got capitalized very quickly by institutional investors including Goldman Sachs and IFC. According to its website, more than a brokerage platform, Kobo360 is now offering drivers access to up to $5,000 monthly working capital through KoPAY, access to an insurance product (KoboSAFE), and access to discounted petrol, comprehensive HMO (healthcare insurance) packages and an incentive-based education program for their families through KoboCARE.
Logistics enable trade. Trade empowers economies. The importance of logistics can never be overemphasized in both traditional sectors and digital sectors like e-commerce. It is exciting to see growing adoption of digital solutions to solving logistics problems in African markets. What we featured in this blog is more focused on the mid-mile segment of logistics, and it is important to point out that warehouse supply, last-mile delivery, port and rail infrastructure - all these upstream and downstream segments are not less relevant at all. With an increasing number of entrepreneurs interested in this space, we think opportunities are still available to many startups who aspire to serve the underserved, to diversify services, and to add more value to the transformation of mid-mile freight logistics in Africa.
Author: Olivia Gao from Future Hub.
Special thanks to Falgu Shah, Jules Gaire, Tukei Tobias, and many other practitioners and experts for kindly sharing their observations, insights and suggestions with me.